Hello all. I hope you're all well. I do plan on writing up a life update post this week, but I really wanted to get a post up with my current reads…better late than never!
How to be an Antiracist by Ibram X. Kendi
Release Date: August 20, 2019 by Random House Audio
Run time: 10 hours, 43 minutes
Genres: Non-fiction, Social Justice, Politics, Sociology
Goodreads | Audible | Google Play
My progress: 7 hours, 6 minutes completed
I always tell my younger patrons, especially teens, that I am terrible at reading non-fiction. I usually find non-fiction literature boring, dense, and time-consuming. But I try my best to read it when I can to both diversify my reading repertoire and connect with what is happening in the world around me (as opposed to relying on social media and news outlets which can be overwhelming and axiety-inducing).
Kendi's How to be an Antiracist is currently my "work audiobook." Not only would I have a hard time reading the print or ebook editions, but I would be waiting a long time for either because they both have long hold lists at my library! Kendi reading his own writing is genuine and refreshing, even if I'm really bad at understanding politics. But his writing is an eloquent and enlightening conversation on systemic racism, the politicizing of BIPOC lives, as well as personal experience. His own struggles as a black man learning to understand both the racism against him as well as the racism he felt toward white people are powerful and invaluable. Readers will be challenged to confront their internal biases and it may hurt. But the journey to anti-racism is a lifelong dedication.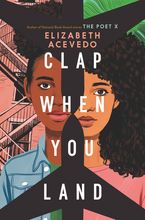 Clap When You Land by Elizabeth Acevedo
Release Date: May 5, 2020  by HarperTeen
Kindle Edition, 432 pages
Genres: Young Adult Fiction, Poetry/Verse, Contemporary
Goodreads | HarperCollins
My progress: 25% completed
Next Thursday, my colleague (our teen librarian) and I will be hosting a summer reading meetup for teens over Zoom. So, I've been trying to read a few more interesting and diverse YA reads to share that they could access from home via our digital collections. I adored Acevedo's The Poet X and was happy to see Clap When You Land available through Overdrive.
I am loving the dual perspectives of Camino in the Dominican republic and Yahaira in New York–two young women who discover they are half-sisters after their father dies in a plane crash. I've reached a point where I realized they share the same dad, but they have not met yet in-person. I'm usually not a fan of books written in verse, but certain authors like Acevedo really know how to utilize it for a compelling narrative. Something about the spacing is so right and so effective for this story–I can't really explain it.
Baking Me Crazy (Donner Bakery #1) by Karla Sorensen
Release Date: August 20, 2019 by Smartypants Romance
Run time: 6 hours, 56 minutes
Genres: Fiction, Romance, Chick-Lit
Goodreads | Rakuten Kobo
My progress: 5 hours, 14 minutes completed
I was both happy and heart-broken after finishing the absolutely amazing Winston Brothers series, by Penny Reid. And so, in an effort to keep myself rooted in Green Valley, Tennessee for a while longer, I decided to delve into the rest of the Green Valley Chronicles.
I believe Baking Me Crazy is the first in a baking-inspired quartet of romance stories set in the Green Valley universe. The story is so perfectly reminiscent of the Winston Brothers series, that it doesn't even bother me that it's a friends-to-lovers story–one of my least favorite tropes. While the Winstons are not the featured characters, I may have squealed when I learned the female protagonist, Jocelyn, recently picked up a job at the same bakery owned by Jennifer Sylvester from the Winston Bros. series!
Two of a Kind (Fool's Gold #11) by Susan Mallery
Published: June 25, 2013  by Harlequin
Kindle Edition, 382 pages
Genres: Fiction, Small-town romance, Contemporary
Goodreads | Fool's Gold: Who's Who
My progress: 31% completed
If you consider yourself a connoisseur of small-town romances and haven't read Susan Mallery's Fool's Gold series, who do you think you are?
For me, this is the quintessential small-town romance series to which I compare all other small-town romance series! I totally consumed these books a few years ago and recently decided to re-read a few of my favorite installments, all of which can be read as stand alones. But if you plan on reading this entire series, I 100% recommend that you read it in order. As you progress through it, you truly grow with the community and experience its transformation with each new couple as they make their mark on Fool's Gold.
Two of a Kind features a socially awkward female genius and the former soldier turned radio show host she slept with years ago. God, I forgot how ridiculously quirky but undeniably lovable Mallery's Fool's Gold characters are.
---
Let me know what you're currently reading.
Instagram | Goodreads | 2020 Reading Goal: 61/100
All lives cannot matter until black lives matter.
blacklivesmatters.carrd.co/